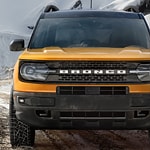 The Ford Bronco is a legendary SUV in Ford's history. After a long hiatus, the Ford Bronco returned to the Ford lineup in 2021. The newer Ford Broncos still offer amazing off-road performance along with plenty of modern amenities. Here at Barber Ford of Holland, MI, we are impressed with the many performance features of this SUV.
Perhaps the best performance features are the available engines themselves. There's the standard 2.3-liter, turbocharged 4-cylinder that produces 300 horsepower. This model has either a 10-speed automatic transmission or a manual 7-speed. There's also an optional turbocharged V6. This engine is only available with an automatic transmission and makes 330 horsepower.
The stopping performance is strong thanks to the four-wheel disc brakes and anti-lock brake system (ABS). There's Advanced 4X4 with automatic on-demand engagement to increase performance capabilities both on and off paved roads. There's also an Electronic Stability-Control System as well as Traction Control for better performance.