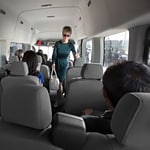 The Ford Transit is a vehicle that can meet your needs for many different purposes. Whether you're looking to transport passengers, goods, or both the Ford Transit Passenger Wagon has features that make it perfect for any application.
The Ford Transit Passenger Wagon is a great option for those who need a vehicle with a bit more space than a traditional car can provide. This feature is what makes it perfect as a taxi, shuttle bus, or airport limo.
Offering reclining seats and three different entertainment options ensure that everyone riding in the rear of the wagon has a comfortable experience. With a 15" LCD screen, a DVD player, and a PlayStation 3 Game System all available as entertainment options there is sure to be something for everyone riding in the back of your Ford Transit Passenger Wagon.
Another great feature that makes the Ford Transit Passenger Wagon stand out from other vehicles can also make it perfect as a shuttle bus.