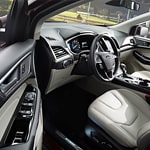 If you've ever seen a Ford Edge, then you might've marveled over the mid-size SUV's design. Here at Barber Ford, we certainly did. The Ford Edge was designed with competency and flashiness in mind, and it achieves both smoothly. The Edge definitely made an impression on us, and here's why.
First off, the overall design of the Edge is one of presence and performance. The strong grille gives you security in knowing that the Edge will be able to get you where you need to be. The available 180-degree camera system will make you feel safe in the driver's seat. Both inside and out, the Edge gives you the feeling that you'll be able to take on anything that comes your way.
To learn more about the Ford Edge, come by our location here at Barber Ford. We'd be enthusiastic as ever to help set you up with a test drive in the Ford Edge.