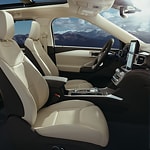 If you've been looking for a vehicle that can keep up with your sense of adventure, then you'll want to consider the Ford Explorer. This popular SUV has a nice range of capability features that drivers in Holland, MI have come to appreciate. At Barber Ford, we would be happy to set you up for a test drive.
Road trips can take you into a wide variety of conditions, and windy situations can sometimes make driving tricky. The Jeep Compass offers the innovative Sidewind Stabilization feature that helps keep this vehicle steady in the event of heavy wind situations.
Safety is another important capability feature that you are sure to appreciate. When backing up out of a parking spot or other area, it can be difficult to see everything behind you. The Reverse Brake Assist feature alerts you whenever stationary or moving objects are detected. Automatic braking is part of this feature.